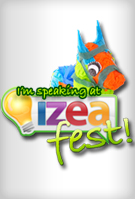 Headed to IZEA Fest!
Posted on: July 1, 2008
Those Who Had Their Say: 8
Ah yes… conventions. They're a massive congregation of people in the same industry that are interested in either expanding their personal or business horizons. I have only been to one convention that covered blogging, and that was Blog World Expo in Nov. 2007.
The whole UBD team went, and it was a great opportunity to meet a lot of folks in the blogging world and expose the UBD brand. We networked with a slew of elite bloggers, business owners and managers, and new clients. On top of that, we were able to listen to some great speakers and learn cutting edge techniques for success. Blog World was a total win for UBD.
This year, we'll be attending another convention in addition to Blog World…
From what it looks like, these guys know how to have a good time!
Headed by Ted Murphy, Izea is a social media powerhouse. They are well known within the industry and offer great products and services to bloggers. Check out a full list of their blogging services.
This conference is going to be all about making bloggers more successful. UBD seems like a natural fit to attend because our goal has always been to help serious bloggers take their game to the next level.
I'll be there, speaking on the blog design makeover panel.

My goal is to help attendees avoid the banality of mainstream blog design! Overshadowing my wimpy online presence, speakers by the likes of John Chow, Shoemoney, Neil Patel, Merlin Mann, and many other ridiculously qualified individuals.
All in all, this should be an awesome conference. Oh ya… I forgot to mention…
The day after the conference, everyone will be heading to Universal Studios Orlando! Like I said, Ted Murphy and clan know how to have fun. Hope you see you all there!!
8 Well Said Comments...
Nate Whitehill

Nate Whitehill

said on July 1st, 2008 at 3:00 am

GR8 times in 'Lando await. To those who want to attend: visit: THIS LINK.

IZEA definitely 4TW at this one.

Roger Blancarte

Roger Blancarte

said on July 1st, 2008 at 7:57 pm

I wouldn't mind attending that myself.

L7 World

L7 World

said on July 14th, 2008 at 12:08 am

Take lots of pictures & notes to share with the rest us please.
ps i dig the new design

Greg Rollett

Greg Rollett

said on August 20th, 2008 at 9:37 am

Looking forward to seeing you there. IZEA sure does know how to throw one hell of a party!

Fail Funnies

Fail Funnies

said on September 9th, 2008 at 8:59 am

I wish I could go. I am sure that there will be some great knowledge and information passed around. Sounds like a great learning event to optimize revenue and learn more about online blogging.

Heather in Beautiful BC

Heather in Beautiful BC

said on September 9th, 2008 at 4:40 pm

Hey Matt – I'm looking forward to my extreme blog makeover – and meeting you at IZEAFest!!! Yes, the Izeans DO know how to throw a fabulous, fun party – see you there .

David Wilkinson

David Wilkinson

said on September 13th, 2008 at 2:49 pm

Hot damn dude. Loving your design as ever, and I'm just finished watching you live on UStream. Phenomenal stuff!

- David

Dina

Dina

said on September 14th, 2008 at 5:21 pm

So great meeting you at Izeafest! See you at BlogWorld later this week!
Have your say... leave a comment!